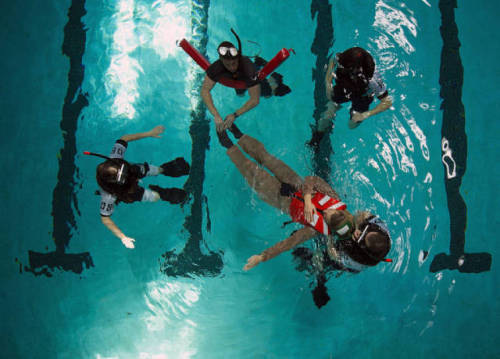 Rescue Diver
Pre-requisites:
Minimum age – 15 years old
Advanced Diver certification from any certified training organization with 20 or more logged dives.
Valid Cardio Pulmonary Resuscitation (CPR) and Basic First Aid certification within past 24 months.
The Rescue Diver course expands your knowledge and experience as a diver. Most importantly, it gives you valuable experience in emergency management. You will be able to confidently assist, rescue, manage dive accidents and render first aid.
What is included? 
Full equipment rental
3D/2N Full board trip to Malaysia
Instructor fees
(Maximum instructor to student ratio for practical sessions is 6 students : 1 instructor)
Certification fees
What you need to do?
1 Theory session (Flexible)
1 Pool session (3~6 hours)
5 Open Water SCUBA Dives
What will you master?
The Rescue Diver course will broaden your focus not only with regard to your skills and the environment, but also to other divers as well. You will be trained to prevent and manage dive emergencies and thereby increasing your skill level and confidence. The syllabus includes:
The psychology of rescue
Being prepared for a diver emergency
Accident management
Responding to diver emergencies
How long does it take?
Our Rescue Diver courses are conducted upon request and it is a performance-based program which allows you the flexibility to participate at any point of the week.
Where will it be conducted?
Theory Lesson; Every Tuesday 6.30 to 10.30pm
• ScubaPeople Dive Studio
Pool Session; Every Wednesday 6 to 10pm
• Outram Secondary School Training Pool
Dive Trip; Every Friday 7pm – Sunday 10pm
Check our weekly diving trip schedule.
Course fees from SGD650
Book Now